So much starts to change when you hit your 40s. But one thing I wasn't prepared for? My hair texture. I have always had a slight wave to my hair, but over the last two years it's become more coarse and frizzy. Now, let me preface this by saying I'm not certainly opposed to texture, curls, and even a little frizz. After all, that's what gives our hair volume, definition, and character! No, it was the wiry, rough feeling of my hair that I was struggling with. It also felt really dry despite trying every hydrating hair mask along with upping my hair vitamins and omega-3 intake. In the summer, I also air dry my hair more and noticed it was much frizzier than usual, making it harder to style. More often than not, my hair would end up in a slicked-back ponytail or low bun. So, I did some research and found a hair smoothing treatment that would help reduce and smooth out the frizz and texture. Bonus: without sacrificing my hair's own wave and movement.
Featured image by Teal Thomsen.
Meet the Expert: Tania Whittier
It's important to note here that I didn't want dead-straight hair, just an overall softening and smoothing. I've heard from friends and colleagues how damaging other hair straightening treatments can be so I was looking for a non-toxic keratin treatment that could give me similar results. According to research and various studies, formaldehyde can increase the risk of cancer. Unfortunately, this is a key ingredient in most of the popular hair smoothing treatments. Finding a formaldehyde free treatment was critical. 
That's when I met Tania Whittier. With a roster of celebrity clients, it's safe to say that the acclaimed stylist has seen it all. But it wasn't until a client asked her about a non-toxic hair smoothing treatment that she decided to seriously look into it. And she hasn't looked back. 
I've had several natural hair smoothing treatments with Whittier now and I'm obsessed. While safety is always the top priority, efficacy is important, too. Well, let me tell you, this one works! Read on to learn more about this natural keratin treatment, how it works, how long it lasts, who the ideal candidate is, and more.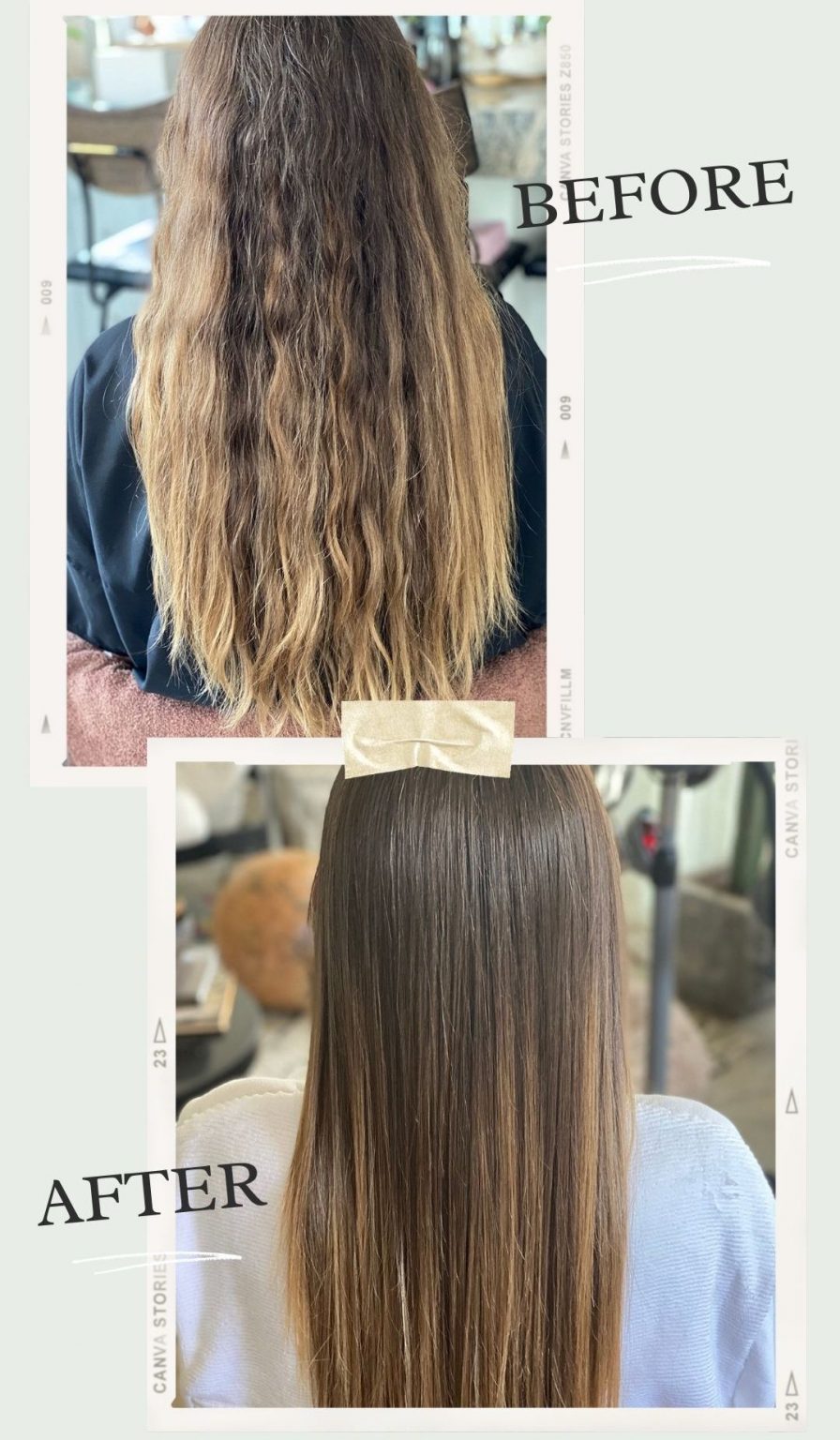 Hair Smoothing Treatment: The Before and After
As you can see in my before photo, my hair was curly with quite a lot of frizz. And while you can't tell from the photo, it was also coarse to touch. But after Whittier's treatment, it's smooth, glossy, and hydrated. Keep reading to learn why.
Toxic Vs. Non-Toxic Hair Treatments
The main difference between non-toxic hair smoothing treatments and traditional keratin ones is formaldehyde. The second biggest difference is the customization. This means that you can choose the level of straightness you want to achieve. (Keep the wave, lose the frizz.) Unlike traditional treatments, non-toxic options allow you to choose how much movement you want to keep in your hair while reducing the frizz.
I opted to be a little straighter than my usual hair this time because I wanted a sleeker look. But my friend and former colleague, Victoria Hoff who has thick, long, naturally wavy 2B S-curls, was able to reduce the frizz without compromising texture. Whittier always assesses the natural texture of the hair first to see what it does naturally and how she can play to that. Then it's up to the formulas, processing, and irons to create a personalized result.
There are several non-toxic hair smoothing products available now. Whittier rotates between Puraluxe, Cezanne, and Leaf & Flower depending on the client's hair. (She used Puraluxe on my hair.) One of the huge benefits is that you don't have to wait to wash your hair. "Because the treatment has gone into the cortex and is actually sealed in, you can resume your normal life immediately post-treatment, which is a huge bonus," explains Whittier. Yes, that means you can do a workout or class at the gym straight after, too.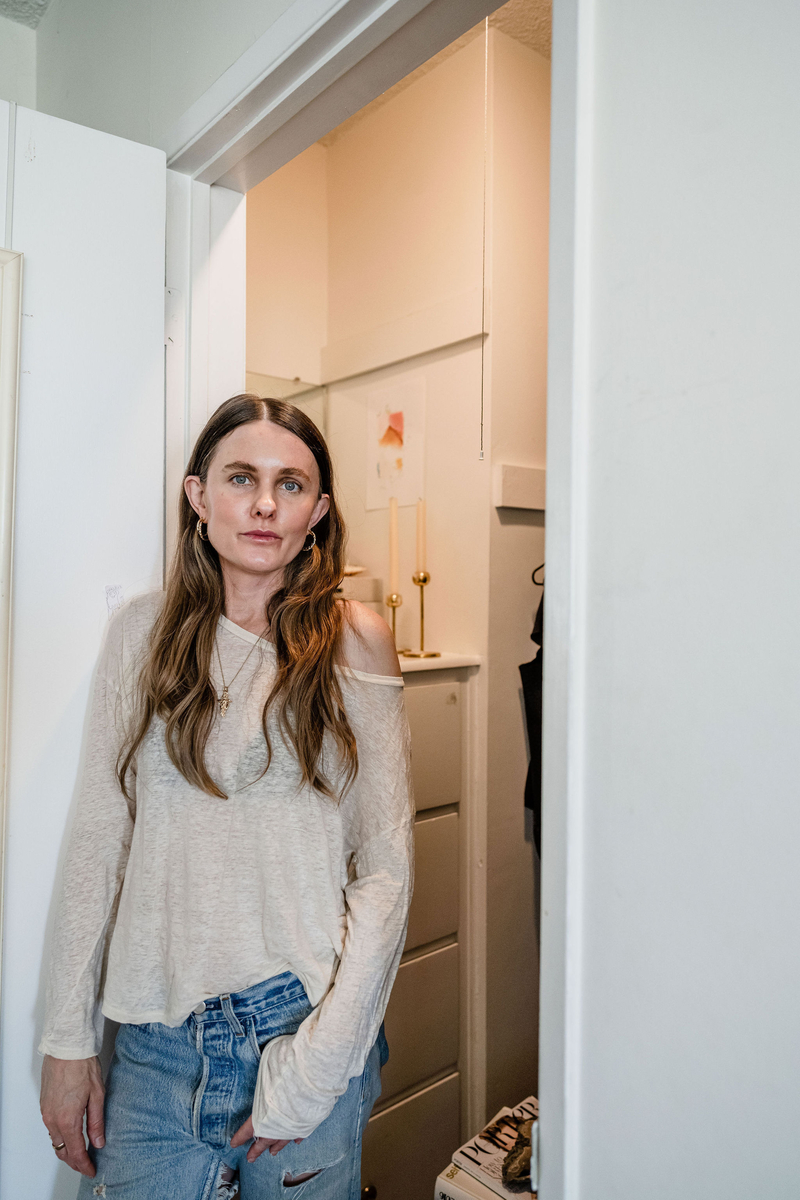 How does it work?
Formaldehyde treatments work by pushing the keratin into the cuticle with heat and the formaldehyde acts as its finishing product. Whittier notes that this gives the illusion of shine, but over time, the hair becomes dry because it's too harsh on the hair, especially fragile hair. 
Non-toxic treatments open the cuticle to allow the amino acids to enter the cortex of the hair versus the old way of high heat mixed with formaldehyde that created a toxic carcinogen. "It works better because now I'm able to control processing times and heat levels along with mixing different formulas," she adds. "This allows me to customize a treatment for every client because not everyone wants stick-straight hair."
Benefits of Non-Toxic Hair Smoothing Treatments
Formaldehyde-free
Non-drying
Customizable depending on desired results
Can wash hair immediately post-treatment
Natural ingredients
The Step-by-Step Process From Start to Finish
Step 1: Shampoo to clean the hair but don't use conditioner. Look at the texture of the hair and discuss desired results.
Step 2: Mix, apply product, and allow it to process. This allows the amino acids to enter the hair.
Step 3: Rinse out the hair 110% because the water will neutralize all the ingredients and any amino acids that didn't make it into the cortex of the hair. This is an important step in creating a non-toxic treatment.
Step 4: Blow dry the hair.
Step 5: Flatiron the hair. This is also an important step because the hair will tell you what it can and can't handle with the heat. It's always important to know the hair and tools you're using. A different temperature and type of iron can make a HUGE difference!
Note: Treatments can take anywhere from 1-3 hours depending on what type of treatment you want and how long you need it. Your hair length and texture also come into play. Depending on the treatment, Whittier charges $125- $475.
How long does hair smoothing treatment last?
Treatments can last anywhere from a few weeks to up to six months. "Everyone has different texture and everyone wants different results so it varies," Whittier explains. "But the more contrasting the texture is from your natural, the faster it will feel like it's growing out."
Who is the ideal candidate for a non-toxic keratin treatment?
Whittier says just about everyone can benefit from an amino acid smoothing treatment. "Even shampoos are starting to boast about keratin and amino acids because they help to repair the hair," she says. "It's all about balance though, so definitely talk to your stylist to make sure your hair stays in the sweet spot!"
Post-Treatment Results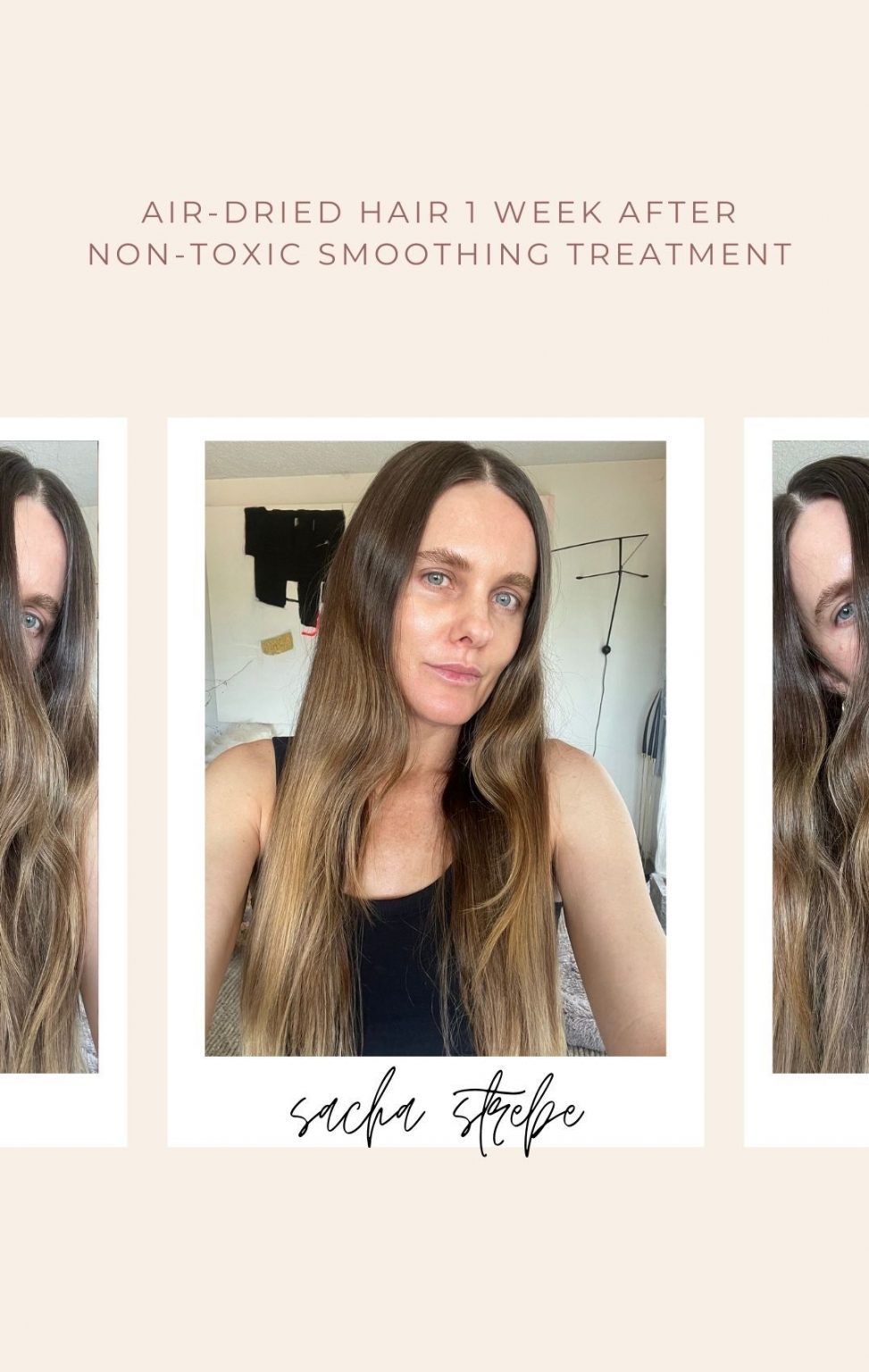 Week 1
This is my hair washed and air-dried one week post non-toxic keratin treatment. As you can see, it's still very glossy and smooth. The curl at the front is from me tucking it behind my ears while it's wet—I like the s-bend shape it creates around my face.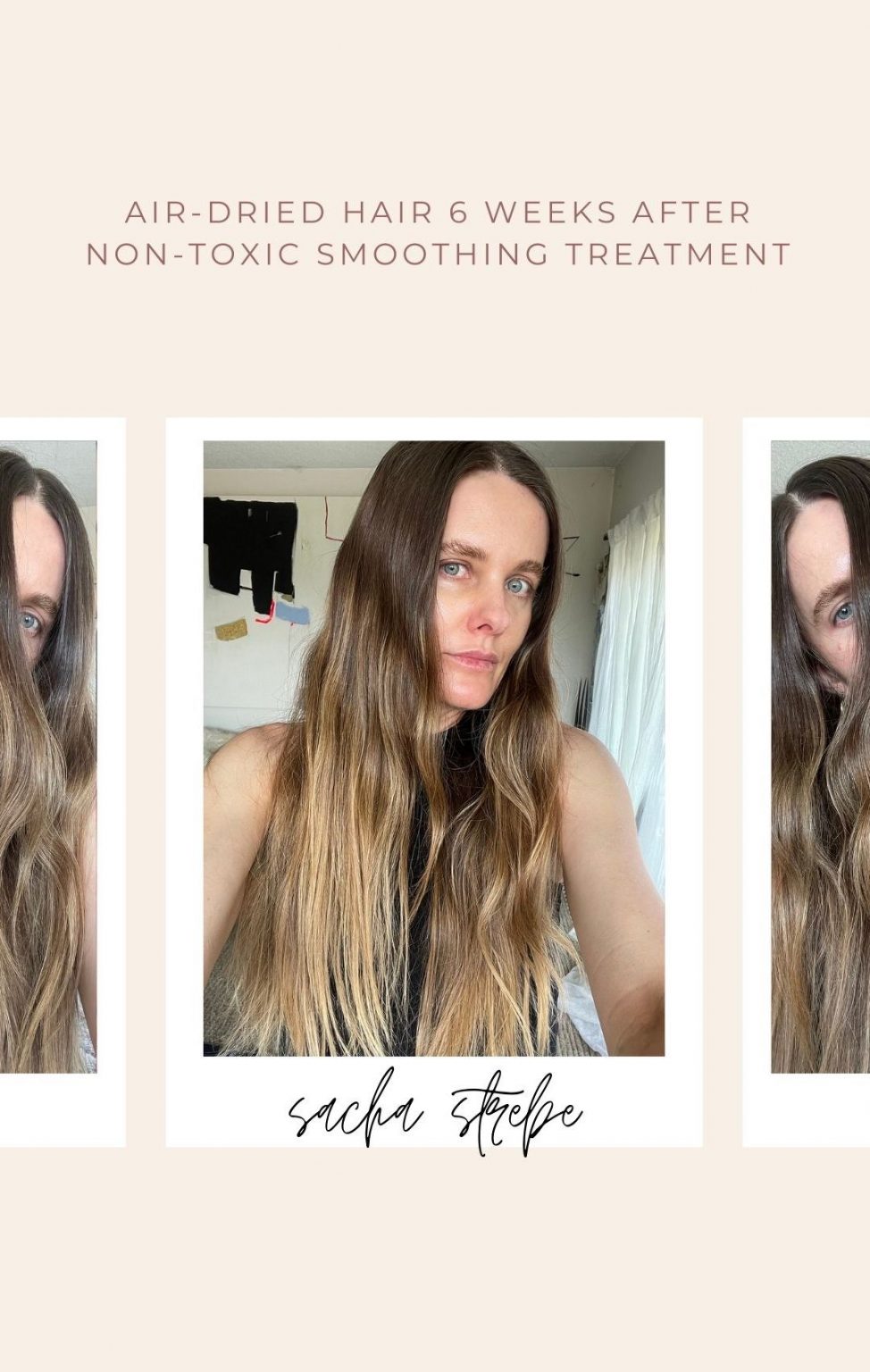 Week 6
This is my hair air-dried and washed six weeks post natural hair smoothing treatment. While some texture has returned, it's still smooth and it feels incredibly soft. There is a wave to it that gives my hair shape and movement but it's not frizzy. I love it so much.
Tania's Top 4 Brands for Post-Treatment Care
Whittier always recommends sulfate-free professional shampoo that doesn't have keratin or proteins in it. "A smoothing treatment puts all the amino acids in so you don't want to try adding more; this will cause your hair to feel dry—it's all about the balance," she advises. 
Every product is curated with care by our editors and we'll always give an honest opinion, whether gifted or purchased ourselves. If you buy something through our links, we may earn a small commission at no cost to you.
It's sulfate free and helps to keep your hair strong.
Great clean professional Italian brand that smells amazing!
Another great clean line from Australia.
Clean, easy to use, and amazing quality.
This post was originally published on August 31, 2021, and has since been updated.