We're in the thick of autumn. And for most, that coincides with a weaker immune system and less-than-glowy skin. Hello, eczema and rosacea. It's as if the seasons are saying, there's no better time to focus on what you're putting in your body. It's no surprise that diet plays a major role in skin health. We know, for example, that inflammatory foods are correlated to skin woes. On the flip side, there are a variety of nourishing ingredients that give your skin nutrients to thrive. Along with foods rich in vitamin C and antioxidants, satiating fats are key. Not to mention, they're important for hormone health and stable blood sugar. The gift that keep on giving this winter? Good fats for skin.
Featured image by Belathée Photography.
Subscribe
Get the goods.
Gatherings, food, design, wellness, and more—it's the newsletter you'll actually want to read.
Thanks for Signing Up!
Oops!
Looks like you're already signed up or your email address is invalid.
Oops!
Looks like you unsubscribed before click here to resubscribe.
Does what you eat impact your skin?
Yes! That said, we're all bio-individuals. Your wrinkles, decrease in elasticity, dryness, and breakout triggers might be very different from your coworker, best friend, or sibling. Simply observing how your skin reacts is key. Generally speaking, foods with a higher sugar content can cause a rise in insulin levels. When insulin is high, it alters other hormones that can affect the skin. We also know that inflammatory foods (i.e. seed oils) alter skin health—as do ingredients sprayed with pesticides. Good news: going organic doesn't have to break the bank.
Hydration, Hydration, Hydration
If you want fabulous skin, make sure you're eating good fats and drinking plenty of water. Staying hydrated rejuvenates your skin. In fact, you can probably feel the difference when you're hydrated! Your skin will feel smooth and soft. Ultimately, skin that lacks proper hydration often becomes itchy, flaky, red, and inflamed. It can also exaggerate the appearance of fine lines and wrinkles. For ultimate hydration, add this (and thank me later).
Top Foods To Eat For Healthy Skin
Along with hydration, the best diet for healthy skin comes from real, whole foods. Here a few ingredients to emphasize:
Berries
Rich in vitamins A and C, as well as an age-defying antioxidant called anthocyanin, berries help protect skin from sun damage, pollution, etc. They also help prevent collagen loss. Other foods rich in vitamins A and C are bell peppers, citrus fruits, tomatoes, and sweet potatoes. In fact, sweet potatoes are an excellent source of beta carotene, which acts as a natural sunblock and may protect your skin from sun damage.
Cruciferous Veggies
In addition to leafy greens, cruciferous veggies (like broccoli and cauliflower) are an anti-inflammatory, anti-aging powerhouse. They're packed with nutrients like vitamin C, fiber, and folate. Your body needs vitamin C to produce collagen, the main protein in the skin that gives it strength and elasticity.
Nuts and Seeds
Many nuts—especially almonds and walnuts—are a great source of vitamin E. Vitamin E can help repair skin tissue, retain skin moisture, and protect skin from damaging UV rays. Chia, hemp hearts, and flax seeds are also rich in essential fatty acids. These two healthy fats have been shown to help restore the skin's moisture barrier (especially in those with dry skin conditions). And don't forget pumpkin seeds!
Fatty Fish
When it comes to skin health, omega-3 fatty acids are key. Omega-3 fatty acids fight inflammation. Aim for a combination of EPA and DHA from salmon, sardines, herring, mackerel, and cod.
How Essential Fatty Acids Improve Skin
Speaking of fatty fish, what do wild-caught salmon, walnuts, and flaxseed have in common? They all deliver essential fatty acids—key elements for glowy skin. Essential fatty acids are responsible for many processes in the body, including healthy cell membranes. And healthy cell membranes are necessary for warding off harmful toxins, moving nutrients into the skin, and helping remove waste. There's even research to show that a diet high in omega-3 fatty acids can help with acne.
11 Good Fats For Skin Health
Prioritize these 11 healthy fats—along with plenty of hydration and a strategic skincare routine—for beautiful, wintry skin. Along with this list, peep a few healthy skin cookbooks to help you get the skin of your dreams.
Almonds
Almonds are a great source of vitamin E. And vitamin E can help repair skin tissue, retain skin moisture, and protect skin from damaging UV rays. Vitamin E is considered an anti-inflammatory agent in the skin, as studies support its prevention of inflammatory damage after UV exposure. Furthermore, almonds are rich in B vitamins (important for skin health) and linoleic acid—an essential fatty acid—helping prevent skin dryness.
Recipe: Roasted Delicata Squash With Feta, Almonds, and Herbs
Avocado
As mentioned, omega-3 fatty acids are key. They fight inflammation. Aim for a varied diet of wild-caught salmon, walnuts, hemp hearts, chia seeds, ground flaxseed, and avocados. The high content of vitamin A in avocados can help shed dead skin cells, encouraging glowing skin. Their carotenoid content may also assist in blocking toxins and damage from the sun's rays and also help protect against skin cancers.
Recipe: Avocado Toast With Kale Pesto
Brazil Nuts
Two Brazil nuts (per day) contain your daily dose of selenium! Selenium aids in the production of glutathione, which repairs cell damage. It also slows down the skin's aging process. Selenium also supports the elasticity of our tissues, protects against sunburn, and fights blemishes.
Recipe: Breakfast Board With Brazil Nuts
Coconut Oil
Coconut oil is a great way to get those beauty-boosting essential fats. Coconut oil is also easily absorbable, making it a great source of quick energy. Last but not least, coconut oil is anti-viral, anti-microbial, and anti-fungal. Coconut oil can help kill the bacteria that cause acne. That said, chat with your dermatologist or esthetician before adding coconut oil to your skincare routine.
Recipe: Coconut Curry Red Lentil Soup
Extra-Virgin Olive Oil
Extra-virgin olive oil is one of the best-kept beauty secrets! Olives are a rich source of vitamins A and E, both of which protect the oils on the surface of your skin from damage. Olives also help strengthen connective tissues, improving skin tone and protecting against UV radiation. In addition, when used topically, olive oil's antibacterial and anti-fungal properties can treat acne, eczema, and psoriasis. Lastly, extra-virgin olive oil is naturally rich in squalane—a key ingredient in many store-bought skincare products.
Recipe: One Pot Garlicky Mushroom And Sausage Pasta
Flaxseed Oil
We love all-things flaxseed. They're a secret weapon for balancing hormones, naturally stabilizing blood sugar, and improving digestion. Plus, flaxseed oil is a powerful skincare and haircare ingredient. This multitasking oil can be applied to skin to sooth irritations or soften roughness. Because flaxseed has anti-inflammatory properties, its oil can also help prevent skin woes: redness, allergies, and tissue inflammation.
Recipe: Gluten-Free And Dairy-Free Pumpkin Muffins
Grass-Fed Animals
Grass-fed animals (think: grass-fed beef) contain CLA. CLA—conjugated linoleic acid—contains abundant antioxidants and anti-inflammatory compounds. These nourish your skin and support its elasticity as you age. An added bonus from grass-fed animal fats? Vitamin K2. It works closely with vitamins A and D to make sure calcium gets to the proper place: your bones! Research is now revealing its benefit in supporting beautiful skin.
Recipe: How To Grill Perfect Steak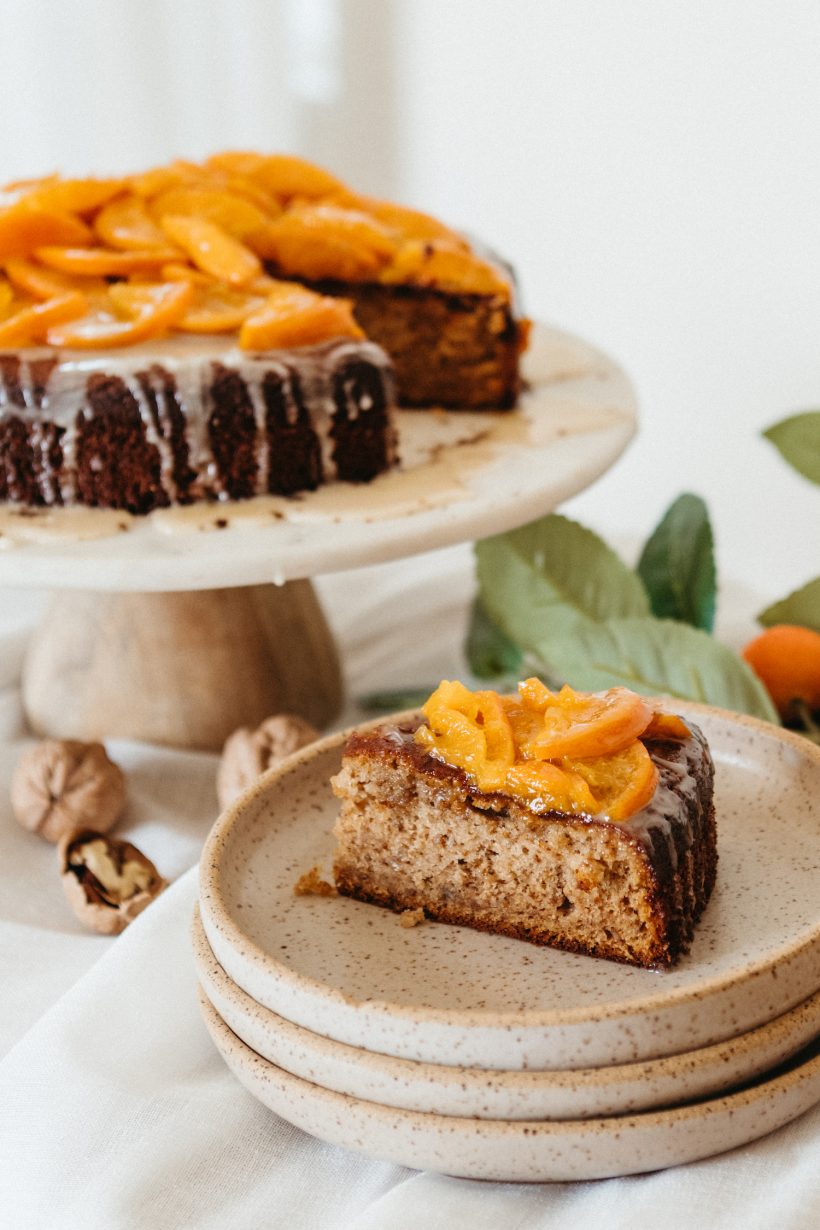 Walnuts
Walnuts not only keep your skin healthy and glowing, but they also reduce inflammation. And, since inflammation leads to breakouts, walnuts make a nutty, tasty anti-acne treatment. Walnuts are also rich in vitamin E and other powerful antioxidant and anti-inflammatory compounds, reducing inflammation and the incidence of breakouts. Plus they provide moisture to the skin and prevent sun damage. They strengthen skin cell membranes, protect against sun damage, and give skin a beautiful glow by preserving its natural oil barrier.
Recipe: Orange-Walnut Olive Oil Cake
Wild-Caught Seafood
While seafood may seem like an outlier in good fats for skin—as it's typically thought of as protein—fatty fish is rich in omega-3 fatty acids. Wild-caught salmon, in particular, is one of the best sources of omega-3 fats (farm-raised won't give you the same benefits, though). The following will give you the most benefit with the least toxicity: wild-caught salmon, sardines, anchovies, herring, Atlantic or Pacific mackerel, rainbow trout, oysters, and mussels. Cod liver oil will also provide omega-3s. If you follow a plant-based diet, you can get omegas with algae oil.
Recipe: Chili-Rubbed Salmon Tacos
Sesame Oil
If toasted sesame oil isn't a pantry staple, here's your gentle nudge. A dash of this unique oil up-levels simple stir-frys, noodles, and salad dressings. Sesame oil is also great for skin health. It has the following properties, which aid in youthful, glowing skin: antioxidants (to fight damage by free radicals), antimicrobial (can kill harmful microorganisms), and anti-inflammatory (can reduce inflammation and swelling). Along with other good fats for skin, sesame oil contains vitamin E, protecting skin cells from pollution and toxins.
Recipe: Black Sesame Banana Bread
Tahini
Tahini, a paste made from sesame seeds, is a staple in many cuisines—especially in the Mediterranean and the Middle East. It's vegan, gluten-free, and tastes both nutty and earthy. This is my favorite tahini for baking, sauces, and more. Tahini is very versatile, and has valuable fatty acids to nourish your skin. Sesame contains special polyphenols (known as lignans) that are potent antioxidants. These help balance your hormones, two very important factors in promoting healthy skin. 
Recipe: Get Figgy With It Smoothie
5 Cookbooks For Healthy Skin
Last but not least, a few healthy skin cookbooks for cozy cooking days ahead.
Every product is curated with care by our editors. If you buy something through our links, we may earn a small commission at no cost to you.
For fighting off eczema, dermatitis, psoriasis, acne, allergies, hives, rosacea, leaky gut, histamine intolerance, and more. Whether your skin issue is mild or momentous, The Healthy Skin Kitchen is your essential resource for clear, healthy skin.
Care for your body from the inside out with this cookbook. It highlights ingredients and recipes designed to make your skin glow.
The Spa Doctor's two-week program to glowing, naturally youthful skin.
The Eczema Detox provides a vibrant new approach to tackling eczema which focuses on providing recipes that are low in chemicals, as well as detailed information on how to cater to a variety of dietary and skin sensitivities. 
In The Anti-Inflammation Cookbook, professional cook and inflammation sufferer, Amanda Haas, joins forces with Dr. Bradly Jacobs to explain which foods are beneficial and why and to share 65 delicious, simple inflammation-busting recipes.