As I'm writing this, I'm curled up with a blanket in front of the fireplace and still don't feel like I'm fully thawed from my momentary step outside. My morning coffee helped, but the pot's gone dry and I'm ready for another cozy bev. Had I planned ahead for these freezing temps, I would've stockpiled cozy drinks to sip on throughout the day to keep me warm from the inside out! Thankfully, there are plenty of simple, homemade options I can mix up—scroll on for some of the best hot drinks around so you can stay warm all season long.
Featured image by Michelle Nash.
Subscribe
Our Top 10 Recipes
Sign up to receive a FREE E-BOOK of my top 10 most popular recipes of all time!
Thanks for Signing Up!
Oops!
Looks like you're already signed up or your email address is invalid.
Oops!
Looks like you unsubscribed before click here to resubscribe.
The Best Hot Drinks to Keep You Cozy All Winter
There's something special about hot drinks this time of year. Scratch that—there's something special about everything this time of year, but things certainly feel more festive with a steamy mug in hand. Trimming the tree requires a mug of hot cocoa, and happy hour trades cold cocktails for mulled wine and hot toddies. These warm bevvies keep you toasty on the inside so you can be your merriest on the outside, which is what the season's all about. If you're in need of some of the best hot drinks to sip on this season, we've got you covered. From hot chocolate to apple cider, this list has something merry in store for all the elves in your life. Happy sippin'!
Hot Chocolate Recipes
Why We Love It: This Boozy Peppermint Hot Chocolate combines two party favorites: dessert and a cocktail. In one loveable form, it's exactly what you'll want to sip on this holiday season. This one is definitely indulgent, so prepare for no holds barred.
Hero Ingredient: This recipe is equally delicious sans alcohol.
Why We Love It: On the other end of the hot chocolate spectrum, this Adaptogenic Hot Chocolate takes an earthier, healthier approach that you'll still love—promise! Instead of hyping yourself up on sugar, you'll experience relaxation and zen thanks to adaptogens. That said, it's still rich, luscious, and chocolatey with a ritualistic spin that you might just implement year-round.
Hero Ingredient: You can make this ahead of time as a mix! Hello, upgraded packet hot cocoa.
Why We Love It: It's vegan, it's dairy-free, and it's still as rich and indulgent as a typical mug of hot chocolate. Sound promising? I think yes. This healthier hot chocolate uses raw cacao powder, maca powder, almond milk, maple syrup, coconut oil, and cinnamon to craft the perfect chocolate flavors. It's not your typical cup of Swiss Miss, but I highly recommend taking the leap of faith. You'll be glad you did.
Hero Ingredient: Don't even think about skipping the salt. A pinch makes each and every flavor in this hot chocolate pop.
Why We Love It: Classic hot chocolate gets an upgrade in spice form in this Mexican Hot Chocolate. With a mix of chili powders lending a subtle kick to the chocolate, you're in for a treat. This one warms you up twofold, with the spice content and literal temperature working for you. It's like a hug in a mug.
Hero Ingredient: I'd encourage you to fiddle with the spices until you find your perfect ratio. Make it how you like it, folks!
Latte Recipes
Why We Love It: Turmeric is always a good idea—especially around this time—for its anti-inflammatory properties. In this recipe, it's combined with fresh espresso shots to give you the perfect afternoon pick-me-up in your mug. If you're serving for a crowd, try simmering a big pot of the turmeric-infused almond milk on the stove so all that's left to do is ladle, add in your brew, and enjoy!
Hero Ingredient: If you go with the pot method, you get an added bonus of holiday aromas wafting throughout your kitchen. I'm all about it.
Why We Love It: Chamomile, lavender, and a touch of vanilla come together to create this latte that gives off total chill-out vibes. It's exactly what I'd want to sip on in front of the fireplace after a stressful day of holiday planning. With the calming characteristics of chamomile and the relaxing tendencies of lavender, you can literally sip your way to a great night's sleep. I have nothing but admiration for this one.
Hero Ingredient: If you have fennel seed on hand, steeping the tea with a pinch of fennel gives it a subtle anise flavor that's divine.
Why We Love It: There are few things cozier than salted caramel and coffee. It's a festive change of pace from your typical cup of joe and looks so inviting in a mug. This one is great to enjoy while you're putting the final touches on your tree, or while watching your favorite holiday movie. Fire up the fireplace, kick up your feet, and sip your way through the season.
Hero Ingredient: This one is definitely sweet, so feel free to tinker with the sweetness depending on your preferences.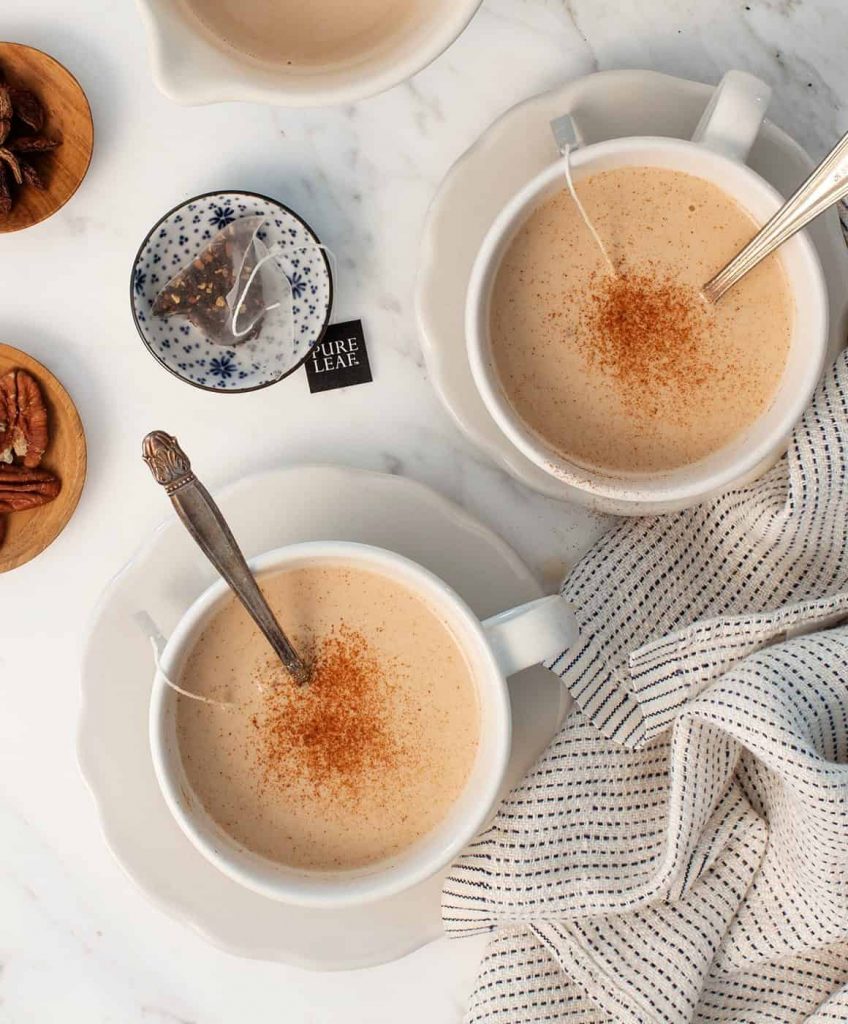 Why We Love It: You've heard of (and probably had) almond milk, oat milk, cashew milk—you name it. But have you ever had pecan milk? If you have, then you're no stranger to the decadence that's to be had, and if you haven't, prepare to be amazed! This latte uses homemade pecan milk to build the base of an exceptional chai latte that you'll want on repeat this season. Don't be intimidated, it's much easier than you might think!
Hero Ingredient: There's a lot of spice going on in that chai tea. It's the perfect combination of cardamom, ginger, cinnamon, and black pepper. Yum.
Why We Love It: This recipe makes a luscious golden milk concentrate that you can keep on hand for up to five days. It's so simple to enjoy with your choice of milk for a glowy latte on demand. With turmeric, ginger, and cinnamon, there's a lot of goodness working for your body, which the black pepper brings front and center. It's easy to make, easy to enjoy, and gives you lots to feel good about as you savor.
Hero Ingredient: To highlight the vanilla flavor in the concentrate, I'd go with oat or almond milk, but soy and regular milk work wonders here, too.
Chai Recipes
Why We Love It: Our Food Editor, Suruchi, crafted this recipe as an homage to the Masala Chai she enjoyed growing up, and it's about as perfect as can be. She likens the feeling of drinking it to "getting a hug in a cup from your aunty" and with that, I'm sold. It's nostalgic, comforting, and full of layered spices that warm you from the inside out.
Hero Ingredient: It makes the biggest difference to grind your spices by hand. If you have the ability, we highly recommend taking this extra step.
Why We Love It: 20 minutes and a handful of ingredients are all you need to make your chai dreams come true. This one makes a whole pot of goodness that you can savor solo or alongside your favorite baked goods. It's simple, full of flavor, and all kinds of warm and cozy.
Hero Ingredient: The small amount of sugar here helps mellow out the bitter aspects of the spices.
Why We Love It: This chai tea recipe might be one of the easiest, but it doesn't sacrifice quality for ease. Though it uses a chai tea bag, there are a few upgrades that help bring forward the most authentic chai flavors. You'll start by boiling water with a handful of spices, then brew the tea bag, and finish with frothy vanilla milk that takes things to the next level.
Hero Ingredient: Garnish with a sprinkle of cinnamon or star anise for an aromatic treat.
Apple Cider Recipes
Why We Love It: This hot apple cider is a hit on all levels. First of all, it doesn't contain added sugars, which is a respectable feat considering most apple ciders we know and love do. And secondly, it only takes four ingredients and 20 minutes to come to fruition. All you have to do is simmer cold-pressed apple cider on the stove with cinnamon sticks, cloves, and orange peel. That's it!
Hero Ingredient: Without the sugar, this apple cider is so much more flavorful. The natural sugars from the apple shine through beautifully.
Why We Love It: This five-ingredient Apple Cider Hot Toddy is practically made for Christmas Eve sipping. It's full of cozy spices, easy to batch-prep, and guaranteed to warm you up as you enjoy quality time with your people. It uses apple cider, bourbon, orange slices, cinnamon sticks, and star anise pods to create the ideal nightcap for the holiday season.
Hero Ingredient: To polish things off, stick a little thinly sliced apple and cinnamon stick in each mug! It's the festive touch that makes all the difference.
Why We Love It: What is wassail, you might ask? Well, it's basically a traditional warm apple cider that's rooted in a whole 'lotta tradition—I'd encourage you to read about it above this recipe! It uses apple cider, black tea, fresh fruits, and a mix of spices to craft the coziest cider for your holiday gatherings. It's simple to make, universally enjoyable, and practically made for crowds. Gather your people and enjoy a-wassailing together!
Hero Ingredient: Bonus: this one simmers for an hour, so you get to enjoy the sweet scent of the holidays.
What are the best hot drinks in your recipe box? Drop them in the comments!